In a hurry to make something for your Crew?
Welcome to a collection of recipes brought to you from Triangle and HCE's high speed chefs!
Recipes should take under 45 minutes . . . many, much faster!
Recipes are broke up by primary cooking appliance.

Means less than 30 minutes

Means more that 45 minutes
Newly Added

Spicy Oven Roasted Plums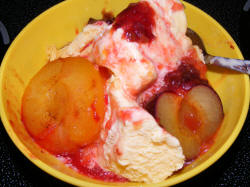 6 plums, halved and pitted
1/2 cup orange juice
2 tablespoons packed brown sugar
1/2 teaspoon ground cinnamon
1/8 teaspoon ground nutmeg
1/8 teaspoon cumin
1/8 teaspoon ground cardamom
Directions

Preheat oven to 400 degrees F (200 degrees C). Grease a shallow muffin tin with cooking spray.
Place the plums, cut-side up, into the baking dish.
Whisk together the orange juice, brown sugar, cinnamon, nutmeg, cumin, and cardamom in a bowl; drizzle over the plums.
Bake in preheated oven for 20 minutes, or until plums are hot and the sauce is bubbly.
I served them hot over vanilla ice cream.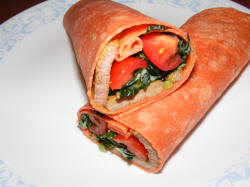 Spicy Curry Beef for Wraps
1 tbsp balsamic vinegar
1 tbsp lemon juice
2 cloves of garlic
1 small onion, chunks
1/2 tsp curry powder
1 tsp red curry paste
1 tsp dried cilantro
1/2 tsp cayenne pepper
2 tbsp white wine
1 tbsp Dijon mustard
2 tbsp olive oil
1 tbsp soy sauce
1 tbsp fish sauce
1 lbs thinly slice beef
Blend all ingredients but the beef. Slice beef into 1/2 inch strips and place in a gallon sized zip lock bag. Add Marinade. Squeeze the bag gently to cover the beef. Refrigerate for 30 minutes or more. Stir fry beef until done.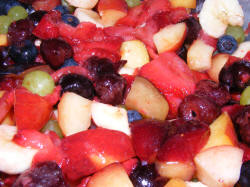 Perfect Summer Fruit Salad
2/3 cup fresh orange juice
1/3 cup fresh lemon juice
1/3 cup packed brown sugar
1/2 teaspoon grated orange zest
1/2 teaspoon grated lemon zest
1 teaspoon vanilla extract
1 cup pitted cherries
2 cups strawberries, hulled and sliced
2 nectarines, pitted and chunked
2 bananas, sliced
2 peaches, pitted and chunked
4 plums, pitted and chunked
1 cup seedless grapes
1 cup blueberries
Directions

Bring orange juice, lemon juice, brown sugar, orange zest, and lemon zest to a boil in a saucepan over medium-high heat. Reduce heat to medium-low, and simmer until slightly thickened, about 5 minutes. Remove from heat, and stir in vanilla extract. Set aside to cool.
Layer the fruit in a large, clear glass bowl. Pour the cooled sauce over the fruit. Cover and refrigerate for 3 to 4 hours before serving.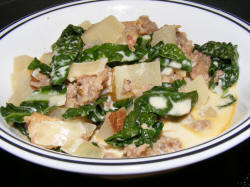 Italian Sausage, Mushroom, and Potato Soup
· 2 medium onions, chopped (your choice of color)

· 8 strips of cooked bacon, chopped (I use precooked)

· 4 cloves of garlic, minced

· 1 pound Italian Pork Sausage

· 1 pound of lean hamburger

· 4 baseball sized red potatoes, washed & cubed

· 8 cups of chicken stock or equivalent bullion

· 2 cups of fresh, sliced mushrooms

· 3 cups of Kale, julienned. (substitute with Cabbage or Spinach if not available)

· 2 cups of half & half
In a 4 quart sauce pan, sauté onions, bacon, and garlic until onions are tender.
While the onions are sautéing, in a large fry pan, brown sausage and hamburger together.
Stir chicken stock, potatoes, & mushrooms into the onions. Bring to a boil.
Add sausage to the soup. (do not drain) Continue to simmer for 15 minutes.
Stir in Kale and half & half and continue to simmer for an additional 5 minutes.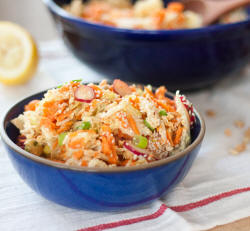 Peanut, Carrot, and Cabbage Slaw
Serves 4
For the dressing:
3 tablespoons peanut butter
3 tablespoons rice wine vinegar
1 tablespoon soy sauce
1 tablespoon sesame oil
1 tablespoon olive oil
2 tablespoons freshly-squeezed lemon juice
For the salad:
3 cups napa cabbage, shredded (from one head of a cabbage)
4 large carrots, grated
4 green onions, sliced thinly
4 large radishes, sliced thinly
1 teaspoon sesame seeds, to top
1/4 cup chopped peanuts, to top
To make the dressing, combine all of the dressing ingredients in a small bowl and whisk vigorously to combine.
In a large salad bowl, combine cabbage, carrot, green onions and radishes. Toss with dressing. Top with sesame seeds and peanuts. Serve immediately or chill before serving. This salad is best the day it's prepared although it's just fine the next day if covered and refrigerated.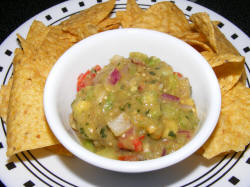 Tomatillo and Cucumber Salsa (medium hot)
6 Tomatillos shucked and quartered
1 large cucumber peeled and chunked
2 cloves of garlic
2 jalapeños, seeded
2 tsp cayenne pepper
1 tsp cumin
2 tbsp lime juice
2 tbsp white sugar
1 cup cilantro
2 Anaheim peppers, seeded and diced
2 Italian sweet peppers, seeded and diced
3 purple onions, diced
2 avocados, peeled, pitted and diced
2 Roma tomatoes, diced
Puree first 9 ingredients with a blender.
Pour in a one quart bowl and add remaining ingredients.
Refrigerate for an hour.
Good with chips or served in tacos.
*zzpictures are from the internet. They are what the webmaster imagines the recipes would look like.