Marinated Chicken Breast and Corn on the Cob (BBQ) (6)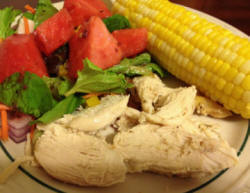 6 Chicken Breast (boneless, skinless) More takes no more time
Favorite Marinade (Teriyaki, Honey BBQ) by ketchup
1 Gallon sized zip lock bag
6 Corn on the Cob still in husks
On the night before the meal, submerge the corn (with husks) in cold water.
Slice each breast into 3 equalish strips. Place in bag with marinade. Squeeze most of the air out before sealing the bag. Knead the bag to even out sauce. Refrigerate.
Set BBQ to 275 to 300 degrees. Place corn (with husks) and chicken on the grill. Cook for about 30 minutes, turning everything every 5 to 7 minutes.
Serve Corn with husks on. They have helped steam the corn and now they keep in hot until ready to eat. Remove just before eating.
---
Grilled Lime-Cilantro Chuck Steak (magazine clipping)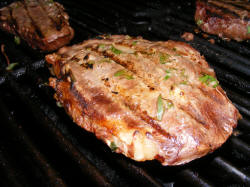 10 minutes prep, 1-2 hours marinating (I started at lunch hour), 20 minutes cooking
3 Tbsp fresh lime juice

3 Tbsp water

1 small jalapeno pepper, seeded and chopped

1 Tbsp chopped cilantro

1 large clove garlic, minced

¼ tsp ground cumin

1 ¼ lb boneless beef chuck eye steaks (about 1" thick)
In a glass baking dish large enough to hold the steaks, combine all ingredients. Add steaks and turn a few times to coat well. Cover and marinade in the fridge, turning occasionally if you can. Remove steaks at least an hour later and grill to your liking. Discard marinade.
---

BBQ Bundles - BBQ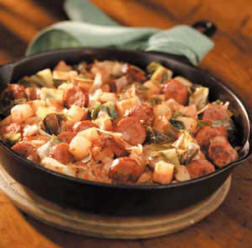 Slice all of the above into small chunks or slices. Divide into fourths and put into four foil packets and dot with butter and garlic if desired. Toss on BBQ for 15 min on medium heat.
*lots to cut up, I eliminated zucchini. Our family would use 2 kielbasa rings rather than 1 and to make more appealing for kids eliminate all but potatoes, carrot and meat.
Will have some type of fruit with this dinner
---
Roasted Garlic & Basil Scalloped Potatoes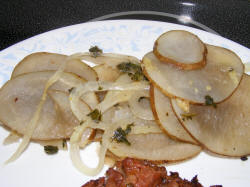 Directions
Preheat grill for medium heat.

Layer sliced potatoes on aluminum foil with the onion, garlic, basil, and butter. Season with salt and pepper. Fold foil around the potatoes to make a packet.

Place potato packet on heated grill over indirect heat, and cook for 30 minutes, or until potatoes are tender. Turn over packet halfway through cooking.
---
Middle Eastern Grilled Chicken (5 or 6 servings) We do have an oven version of this recipe.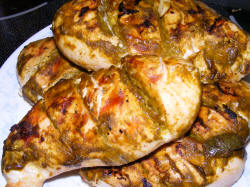 5 or 6 boneless, skinless chicken breasts halves

1 cup fresh cilantro

3 Tbsp lemon juice

2 Tbsp olive oil

3 cloves garlic

1 jalapeno, halve and seeded

1 ½ tsp paprika

1 tsp ginger

1 tsp cumin

1 tsp salt

½ tsp turmeric
Slit chicken breasts in 4 places, cutting half way through.
Process remaining ingredients in blender or food processor until smooth. Rub paste over chicken and into slashes.
Heat grill to 375o to 400o. Line used portion or the grill with foil for more even cooking. Grill 30 total minutes, flipping every five minutes. On the last 10 minutes, place breasts on grill directly and remove foil. That gives the pretty grill marks.
---
Grilled Rosemary Dijon Steaks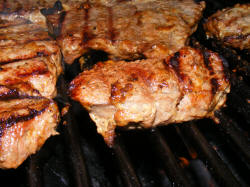 Directions
Place onion, garlic, olive oil, vinegar, soy sauce, rosemary, mustard, salt, and pepper into the bowl of a food processor or blender. Process until smooth. Place steak in a large resealable plastic bag. Pour marinade over steaks, seal, and refrigerate for about 3 hours.

Preheat the grill for high heat.

Brush grill grate with oil. Discard marinade, and place steak on the prepared grill. Cook for 7 minutes per side, or to desired doneness.
---