Fritter Critters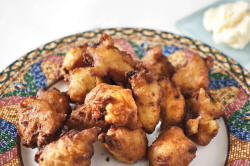 (deep fat Fryer)
Cut 11/2 # of round steak into bite sized strips – set aside
Mix together on plate:
1 c. flour

1 t. baking powder

½ t. onion salt
Mix in dish:
1 egg

1 c. milk

½ c. oil.
Dip steak strips in milk and egg mixture, then coat in flour mixture, fry in hot oil until brown.
I serve with mashed potatoes and green peas. The drippings from the pan make a great milk gravy, if you are so inclined. Just sprinkle a little flour over drippings, add milk and salt and pepper and stir until thick. Note: make a double batch of potatoes, so you have extras for Day 4.
---
"I gotta get rid of stuff? salad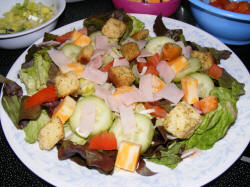 1 head of red leaf lettuce
1 leek, white end, chopped
1 tomato
1/2 lbs of Colby/jack cheese, cubed
4 slices of turkey breast, sliced into strips
1 burbless cucumber
your choice of dressing
6 sliced strawberries, optional
Either toss ingredients together, or leave in separate containers for "eater's choice"
---
Mango, Avocado Salsa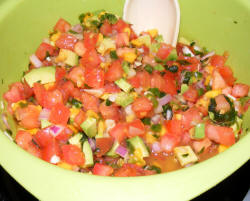 Directions
In a medium bowl, combine the mango, avocado, tomatoes, jalapeno, cilantro, and garlic. Stir in the salt, lime juice, red onion, and olive oil. To blend the flavors, refrigerate for about 30 minutes before serving.
---
Combine the watermelon, strawberries, lemon juice, sugar, and water in a blender. Blend until smooth.
---
Directions
In a small bowl, whisk together the sugar, olive oil, honey, vinegar, and lemon juice. Set aside.

Place the salad greens in a pretty bowl, and top with sliced avocado and strawberries. Drizzle dressing over everything, then sprinkle with pecans. Refrigerate for up to 2 hours before serving, or serve immediately.
---

Peanut Butter Banana Roll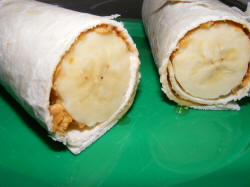 1 wheat tortilla (I used flour)
1 banana
2 Tbsp smooth peanut butter
1 tsp honey
1/3 cup of corn flakes or other cereal
Spread peanut butter in a 3 inch strip down the middle of a tortilla. Crumble cereal onto the peanut butter. Straighten banana and place it along the peanut butter. Drizzle honey on the tortilla on the right side of the peanut butter.
Roll tortilla from left to right sealing with the honey. Cut in half and serve.
---

Strawberry Milk Shake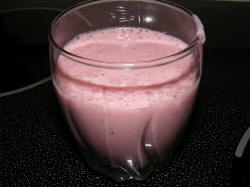 (blender)
16 oz Frozen Strawberries
3 cups Milk
1/4 cup Berry Flavored syrup (I used Diet Cran/Raspberry Soda Stream Syrup)
Blend and serve
---

Turkey Avocado Panini serves 2 (Panini press)
Directions
Mash the avocado and the mayonnaise together in a bowl until thoroughly mixed.

Preheat a Panini sandwich press. (I used a George Forman Grill)

To make the sandwiches, split the ciabatta rolls in half the flat way, and brush the bottom of each roll with olive oil. Place the bottoms of the rolls onto the Panini press, olive oil side down. Place a provolone cheese slice, half the spinach leaves, half the sliced turkey breast, and a sliced roasted red pepper on each sandwich. Spread half of the avocado mixture on the cut surface of each top, and place the top of the roll on the sandwich. Brush the top of the roll with olive oil.

Close the Panini press and cook until the bun is toasted and crisp, with golden brown grill marks, and the cheese has melted, about 5 to 8 minutes.
---

Crispy Chicken Salad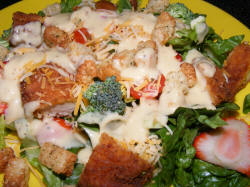 Chicken Strips sliced into half inch strips
Romaine Lettuce
Tomato
Broccoli flourettes
Shredded Cheese
Croutons
Strawberries, sliced (optional
Green Onion sliced
Light Caesar Dressing, or your choice
---

Fruity Coleslaw (feeds a girls scout troop)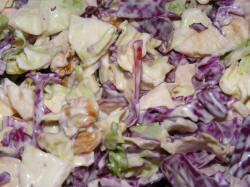 1 head green cabbage
1 head red cabbage
2 apples
2 cups crushed walnuts
1 16oz. bottle of coleslaw dressing
Chop both cabbages.
Core and seed apples. Cut into 8ths. Slice each portion into 1/4 inch pieces.
Toss all ingredients.
---
Cool Cucumber Salsa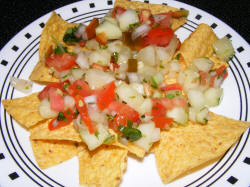 In a medium bowl, stir together the cucumbers, tomatoes, green pepper, jalapeno pepper, onion, garlic, lime juice, parsley, cilantro, dill, and salt. Cover and refrigerate for 1 hour. Serve with tortilla chips.
---
BLT Rollers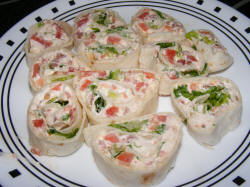 4 ounces PHILADELPHIA Cream Cheese, softened
1/4 cup KRAFT Real Mayo Mayonnaise
8 slices OSCAR MAYER Bacon, cooked, crumbled
1/2 cup chopped tomatoes
2 (8 inch) flour tortillas
1/2 cup shredded romaine lettuce
Mix cream cheese and mayo in medium bowl. Add bacon and tomatoes; mix well.
Spread onto tortillas; top with lettuce. Roll up tightly.
Cut each into 7 diagonal slices.
---