Spinach Bacon Quiche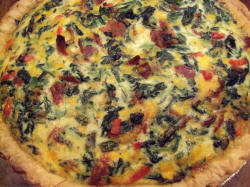 1 8 inch unbaked pastry shell

3 slices bacon

¼ cup chopped onion

5 oz chopped frozen spinach or fresh, blanched spinach

1 ½ tsp Tabasco sauce

3 eggs

1 cup heavy whipping cream

½ cup shredded Swiss cheese
Preheat oven to 425 degrees. Place pastry shell in pie plate and pick with a fork. Bake 6-8 minutes or until it begins to brown slightly. Set aside to cool.

Reduce oven to 375 degrees.

Cook bacon. Crumble it. Discard all but 1 Tbsp grease and add onion. Cook for about a minute over medium heat until translucent. Add spinach, ½ tsp Tabasco and cook until liquid evaporates. Set aside.

Beat eggs in mixing bowl, add cream and 1 tsp Tabasco. Gradually stir in spinach and onions.

Sprinkle cheese in bottom of pie crust, add half the bacon, pour in egg mixture. Sprinkle remaining bacon on top. Bake 25-30 minutes or until a knife comes out clean.
---
Chicken Celery Casserole (from customer Arlene Anderson)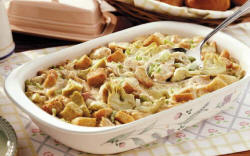 4 cups cooked, cubed chicken

8 celery ribs, chopped

1 cup chopped pecans

1 small onion, chopped

2 cups mayonnaise (no light or fat free)

1 Tbsp lemon juice

1 tsp garlic salt

1 cup crushed potato chips

1 cup crushed French fried onions

½ cup shredded cheddar
Combine everything except the bottom three ingredients.
Place in greased 9x13x2" pan.
Bake at 350 for 20 minutes
Top with crunchies and cheese.
Bake 5-10 more minutes.
---
Chicken Fajita Pizza – 6-8 servings (magazine clipping)
1 Tbsp oil

2 whole chicken breasts, skinned, boned, cut into 2 x ½" strips

1 garlic clove, pressed (I minced)

1-2 tsp chili powder

½ tsp salt

1 cup onion, thinly sliced

1 cup green or red bell pepper strips (2 x 1/4inch)

1 package (10 oz) Pillsbury Pizza Crust

½ cup mild salsa or picante sauce

2 cups (8 oz) shredded Monterey Jack cheese (I used pepper jack)
Heat oil in skillet over medium-high heat until hot.
Add chicken. Stir fry 5 minutes or until lightly browned.
Stir in garlic, spices and veggies. Stir fry until crisp-tender.
Heat oven to 425. Spray 15" baking stone or pizza pan with oil spray. Roll dough out starting in center to a 14" circle.
Bake dough 8-10 minutes.
Spoon chicken mixture over crust.
Spoon salsa over chicken mixture.
Sprinkle with cheese.
Bake 15-18 minutes or until crust is golden brown.
---

Roasted Asparagus and Shrimp Salad (2 servings) from SpryLiving.com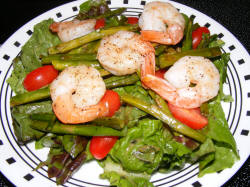 2 cups salad greens

¼ cup grape tomatoes

1 small bunch asparagus

8 medium to large shrimp, peeled and deveined

3 Tbsp olive oil, divided

½ tsp kosher salt, divided

½ tsp black pepper, divided

1 Tbsp Dijon mustard

2 tsp honey

2 Tbsp red wine vinegar

1 Tbsp fresh basil, chopped

1 tsp fresh oregano, chopped

Parmesan cheese (optional)
Preheat oven to 400.
Wash and drain salad greens and tomatoes, set aside.
Wash asparagus and pat dry. Trim ends, cut in thirds and place on foil-lined baking sheet.
With foil, make a bowl for the shrimp and place on baking sheet with asparagus.
Drizzle 1 Tbsp olive oil on asparagus and shrimp. Top with ¼ tsp salt and ¼ tsp pepper.
Bake for 7 minutes. Remove shrimp (I just keep it wrapped in the foil to stay warm) and continue cooking asparagus 8 more minutes.
In a small bowl, whisk mustard, honey, vinegar, remaining salt, pepper and olive oil.
Place salad greens, basil and oregano in a medium bowl and add enough dressing to moisten. Arrange salad mixture on plates, top with shrimp, asparagus and parmesan cheese shavings. Serve immediately.
Per serving: 276 calories, 21g fat, 9g protein, 13g carbs, 3g fiber, 43mg chol, 816mg sodium.
---

Busy day pork chops – recipe by Pam Murphy in the relay for life cookbook (the one with the pictures of the cherries on the plate) pg 39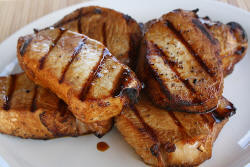 ¼ c milk

¼ c grated parmesan cheese

¼ c seasoned bread crumbs

¼ tsp salt

¼ tsp garlic powder

1/8 tsp pepper

4 boneless pork chops
Place milk in shallow bowl. In another shallow bowl, combine the cheese, bread crumbs, salt, garlic powder and pepper. Dip pork chops in milk, then coat with crumb mixture. Place on baking sheet coated with cooking spray; spritz chops with cooking spray. Bake at 375 for 9-11 minutes on each side or until done. Also good on the BBQ.
Will have applesauce with this meal
---

Crab on a bun (John Schoen recipe pg 43 relay for life cookbook with picture of cherries on the plate) for the adults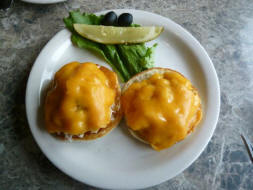 1c flaked imitation crab meat

¼ c celery, diced

2 T onion, chopped

½ c cheddar cheese, grated

Mayonnaise

English muffins
Combine ingredients and spread on muffin. Place on cookie sheet and broil until cheese is melted. *My kids do not like this and neither do John Schoen's.
---
Stromboli
1 loaf of frozen bread dough
Anything you like on a pizza to include cheese, veggies, sausage, etc., but you won't need much.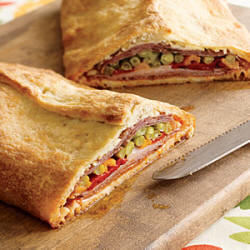 Take out bread in morning or at noon, to let thaw. I cover with oil and plastic wrap, and then with a towel if I take it out in a.m., so it doesn't rise too much. Roll dough out on a greased cookie sheet into a rectangle about 10x16. Only down the middle, put one layer of provolone cheese, then pizza sauce, or spaghetti sauce, layer Canadian bacon, pepperoni, onions, etc. and then end with mozzarella cheese. Pull the two long sides of bread dough to the middle over the ingredients and pinch together until sealed, folding in ends and pinching them too. Carefully flip the loaf so it is seam side down. Bake in a 350 degree oven 15-20 min. or until brown. One loaf serves 3-4 people. Slice pieces about 11/2 inch thick. This is a great way to use leftover Italian stuff. We just put in all in the freezer door because we make this so often.
Serve with a salad, carrot and celery sticks, chips, etc.
Variation: Try with 1 can of chili, diced onion and cheese.
---

Mixed fruit pancake cupcakes - oven - 12 servings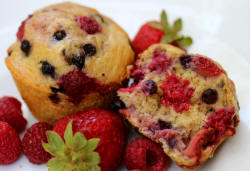 Pancake mix

water

sugar free syrup*

Frozen mixed fruit (strawberry, raspberry, blueberry, blackberry)

non stick spray (Pam)
Set oven to 325°. Cut up about a half cup of frozen fruit into ¼ to ½ inch pieces. Mix fruit in bowl with 2 cups of pancake mix, 1 cup of water and 1/3 cup of your favorite sugar free syrup (I used apple.)
Lightly spray cupcake / muffin pan with non stick spray and divide mixture into the pan. Do not use cupcake papers. They stick to the product.
Bake in the oven for about 25 minutes.
*sugar free syrup is more watery than regular syrup and better replaces the portion of the water used in pancake mix.
---
Easy Chicken Bake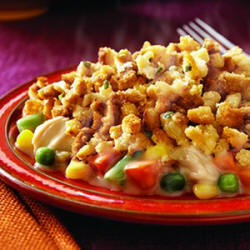 1 pkg. (6 oz.) Stove Top Stuffing mix for Chicken

1 ½ lb. boneless skinless chicken breasts, cut into 1-inch pieces ( I just used 2 large chicken breasts)

1 can (10 ¾ oz.) condensed cream of chicken soup

1/3 cup sour cream

1 bag (16 oz.) frozen mixed vegetables, thawed, drained
Preheat oven to 400°. Prepare stuffing mix as directed on package; set aside.

Mix chicken, soup, sour cream and vegetables in 13x9-inch baking dish; top with prepared stuffing.

Bake 30 min. or until chicken is cooked through.
Makes 6 servings
---
Ranch Chicken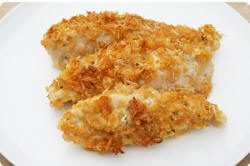 1 package dry Ranch dressing mix

¾ cup cornflakes, crushed

¾ cup parmesan cheese

2 ½ lbs. chicken breasts or tenders

¼ cup butter or oil

1 egg
Preparation:
Melt butter. In medium sized dish (I use my glass pie plate), mix butter and egg. Set aside. Mix parmesan cheese, ranch mix and cornflakes in another medium sized dish. Dip chicken breasts or tenders in butter mixture followed by cornflake mixture and place in a greased 9 X 13 in. pan. Bake at 350° for 45 minutes – 1 hour.
---
Swiss Chicken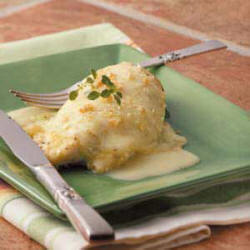 4-6 pieces of chicken

6-8 slices swiss cheese

1/2 C light mayo

1/2 C greek yogurt

3/4 C grated parmesan

1/2 tsp salt and pepper

1 tsp garlic powder
* I recommend using fresh chicken, not frozen. The problem with frozen chicken is the dish will be too watery and not as good :)
Preheat oven to 375

Spray 9-13 pan

Put chicken in dish and cover with slices of Swiss cheese

Mix together mayo, yogurt, 1/2 C parmesan, salt, pepper, garlic powder and spread the mixture over the cheese

Top with the remaining parmesan and bake for 45 minutes

(Serves well over rice)
---

Cheesy Chicken Spaghetti Casserole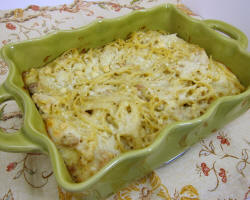 I got this recipe from www.food.com

Ingredients
8 oz angel hair pasta, cooked
1 Can chopped mushrooms, drained (4 ounce)
2 Cups cooked chicken, diced
1 Can cream of chicken soup, undiluted (10 ounce)
2 Tbsp butter
1/3 Cup milk
1/8 tsp pepper
1 mozzarella cheese, shredded or 1 cup shredded cheddar cheese
Directions
1 Combine cooked spaghetti, mushrooms, chicken, soup, butter, milk, pepper and cheese.
2 Mix well and put into a 2 quart casserole dish.
3 Bake at 350 degrees for 30 minutes.
---

Tater Tot Casserole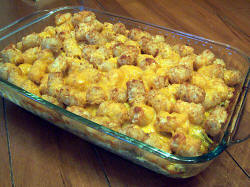 Ingredients
1 lb Browned ground beef
1 Can cream of chicken soup, undiluted (10 ounce)
1 Can Cream of celery soup
1 Can Corn (Drained)
1 Cup Shredded cheese
1 Bag Tater Tots
1 Cup Milk
Directions
Combine beef, soups, milk and cheese in 9x13 in pan. Sprinkle corn on top. Top with enough tater tots to completely cover mister. Cover and bake for one hour at 350 degrees. This can be made the night before without the tater tots. Bake for the same amount of time.
---

Easy Eggnog Pumpkin Pie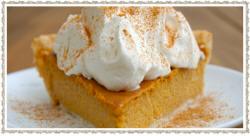 I got this recipe from Don Vandeberg

Ingredients
1 Can - pure Pumpkin (not pie mix) (15 oz.)
1 1/4 Cups prepared eggnog
2/3 Cup Sugar
1 1/2 tsp Pumpkin Pie Spice
1/4 tsp Salt
3 Large Eggs
1 frozen deep dish Piecrust (9 pinch)
Whipped Cream for garnish
Directions
Preheat oven to 375 degrees.
In large bowl, with wire whisk, mix pumpkin, eggnog, sugar, spice, salt and eggs until well blended.
Place frozen piecrust on cookie sheet on oven rack, pour in pumpkin mixture
(mixture will come up to almost top of piecrust)
Bake 60 65 minutes or until filling puffs up around edges and center is just set but not puffed.
Cool pie completely on wire rack.
Refrigerate until ready to serve or up to one day.
Garnish with whipped cream sprinkled with pumpkin pie spice.
---
Spaghetti casserole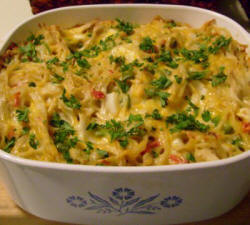 Ingredients
1 lb ground turkey breast
1 green bell pepper, chopped
1 onion, chopped
1/2 Cup celery, chopped
2 tsp minced garlic
1 condensed cream of mushroom soup (10.75 oz can)
3/4 Cup Milk
1 tomatoes, undrained, chopped (16 oz can)
2 Tbsp Italian seasoning
1/2 tsp salt
1/4 tsp pepper
8 oz spaghetti
2 Cups mozzarella cheese, shredded
Directions
In a Dutch oven, cook ground turkey, green pepper, onions, celery, and garlic. Stirring until turkey is cooked through. Drain, return to pot. Stir in tomatoes, Italian seasoning, salt, and pepper. Bring to boil over medium heat. Cover, reduce heat to low. Simmer 10 min. Cook spaghetti as directed, drain. Layer spaghetti, meat mixture and cheese twice in 9x13 in pan. Top with soup and milk mixture.
Cover, bake at 325°F for 20 minutes. Sprinkle with shredded cheese. Bake, uncovered for 10 minutes.
---
Bachelor Biscuits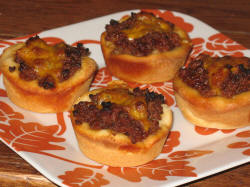 3-4 cans Pillsbury biscuits (4 pack Great Value brand also works great) *this will make enough for 5-7 people
1 to 2 lbs. cooked hamburger
Shredded cheddar cheese
Chopped onion (optional)
Barbecue sauce
**you can also use pizza sauce & use the little pepperoni's & top with your favorite pizza toppings- kids like these!
Preheat oven as directed on biscuit package.
Remove biscuits from package. Take 1 to 1 ½ biscuits & flatten in muffin tin (spread it to make a cup) . Fill the cup w/burger, onion, add barbecue sauce & sprinkle cheese on top. The cup shape will hold it all together. Bake as directed on package or until the biscuits are golden brown. (my kids like them without the barbecue sauce, they dunk theirs in ketchup).
I usually serve with raw veggies & ranch dip.
These are also great leftover for lunch the next day!
---
Chinese Five-Spice Pot Roast (8 servings)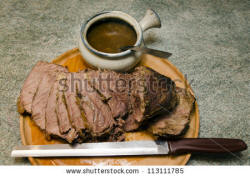 1 Tbsp olive oil

4 pound boneless beef chuck, rump or top-round roast

1 cup beef broth

3 Tbsp soy sauce

1 Tbsp minced garlic

1 tsp anise

1 tsp fennel seed

1 tsp cinnamon

1 tsp cloves

1 tsp pepper

2 Tbsp cornstarch, mixed with ¼ cup cold water

Sliced green onions for garnish
Heat oven to 325o. Heat oil in oven proof pot over medium-high heat. Brown roast on all sides (8 minutes). Add remaining ingredients (except cornstarch and green onions) and bring to a gentle boil. Remove from heat and cover with tight lid or foil plus lid. Bake 3 hours, turning beef one or two times. Let stand 10 minutes before carving.

Skim fat from liquid in pot and discard. Bring liquid to a gently boil, whisk in the cornstarch water. Stir constantly, boiling for 2 minutes or until slightly thickened.

Slice meat across the grain and serve with gravy and green onions.

Also works in crockpot – 6 hours or more on low.
---
Bacon Chicken Alfredo Pizza, 6 servings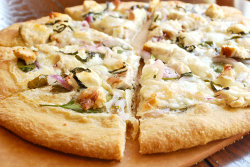 14 oz Italian pizza crust

½ cup Alfredo sauce

Garlic and other Italian spices to taste

6 oz chicken breast, cooked and diced

2.1 oz bacon, cooked and cut in half

1 cup mozzarella and cheddar, shredded

¼ cup parmesan
Mix Alfredo sauce with chosen spices and spread to within 1" of crust edge. Top with remaining ingredients. Place on cookie sheet. Bake at 400o for 8-10 minutes or until cheese is melted.
---
Tip Roast Cajun Style, 6-8 servings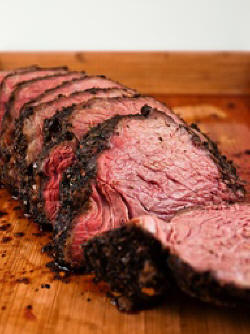 4 pound tip roast

¼ cup onions, finely chopped

¼ cup celery, finely chopped

¼ cup green pepper, finely chopped

2 Tbsp olive oil

1 tsp salt

2 tsp pepper

1 clove garlic, minced

½ tsp dry mustard

½ tsp cayenne pepper
Preheat oven to 300o. With a sharp knife, make 8-12 deep V-shaped slits in the roast, stopping an inch from the bottom. Mix the remaining ingredients and fill the slits in the roast with the mixture, reserving some to rub on top of roast. Bake for 2 ½ hours or until roast reaches 140o (for medium rare). Serve with pan juices. I have also cooked this in the crockpot for 6 hours on low.
---
Chicken or Tuna Casserole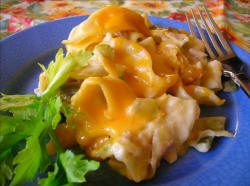 1 12 oz box noodles of your choice. I like shells or farfelle (bow-tie)

1 can tuna or chicken, drained

1 can cream of mushroom soup

1/2 c sour cream

2-4 oz cream cheese

4-6 oz velvetta

4 slices crisp crumbled bacon, optional (or is you have it on hand!)

1 tsp garlic salt

1 tsp thyme

tube of ritz crackers

2 tb butter
Boil noodles til nearly done, drain. Stir in remaining ingredients except crackers & butter. Spoon into baking dish.
Crush ritz. Cut in butter. Sprinkle over casserole.
Bake at 350° for 30 to 45 minutes.
---
French Bread Pizza,
A weekly or bi-weekly quick fix at our house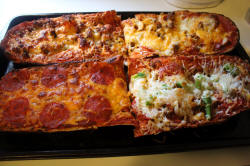 Buy a loaf of french bread. Slice it into 2 halves. Top with jarred pizza sauce- the squeeze bottle of Contadina brand tastes great. Then add all your favorite toppings and bake in a 400° oven for 10 to 13 minutes depending on how many toppings and how crispy you like the bread.
---
Easy Bake Swiss Chicken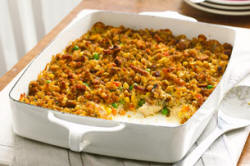 A very easy dish to make, tastes very gourmet, but is kid approved!
8 chicken breasts

8 slices swiss cheese

1/4 c chicken broth (or white wine)

10 oz can cream of chicken soup

1 1/2 c seasoned stuffing, crushed (about 1 pkg of stovetop)

3 tB melted butter
Arrange chicken in 9x13 dish. Cut cheese to fit chicken. Mix broth & soup, spoon over chicken & cheese. Mix butter & stuffing crumbs. Sprinkle over the top.
Bake at 350 degrees for 45 minutes.
---
Baked Caesar Chicken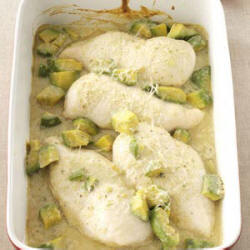 4 boneless skinless chicken breast halves

½ cup fat free creamy Caesar salad dressing

1 medium avocado, cubed

¼ cup shredded Parmesan, divided
Place chicken in 11x7" baking dish coated with cooking spray. Combine dressing, avocado and 2 Tbsp cheese. Spoon over chicken. Bake at 375o for 30-35 minutes until chicken is 170 o. Sprinkle with remaining cheese and serve.
---
Sausage Eggplant-Stuffed Shells in Tomato Basil Cream Sauce (4 servings)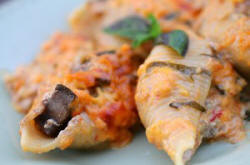 (most ingredients are divided between filling and sauce – be sure to read before dumping them in)
1 Tbsp olive oil

½ pound sweet Italian sausage (casings removed)

1 cup onion, chopped

3-4 cups eggplant, cut into ½" cubes

½ tsp salt

½ tsp crushed red pepper

1 Tbsp minced garlic

¼ cup ricotta cheese

6 oz fresh spinach, blanched, squeezed dry and chopped

½ cup Parmesan, grated

9 jumbo pasta shells

1 cup Italian crushed tomatoes

1 ½ cups heavy cream

¼ cup fresh basil, chopped

2 oz fontina cheese, coarsely grated
In a large skillet, heat ½ Tbsp olive oil over medium-high heat and sauté sausage until golden brown and breaking up pieces. Add half the onions, eggplant, salt, crushed red pepper. Cook for 4-6 minutes or until vegetables are very soft. Add half the garlic and cook for one minute. Transfer to bowl to cool.
When cool, stir in ricotta and half the Parmesan.
Boil shells al dente (10-12 minutes). Drain and rinse under cold water. Pat dry. Stuff shells with sausage mixture and place in lightly greased casserole dish.
In large saucepan, heat remaining oil over medium high heat. Saute remaining onions until translucent (4 minutes). Add remaining garlic, cook 1-2 minutes. Add tomatoes, remaining salt and crushed red pepper and cook 5 minutes. Add cream and cook until sauce is reduced by 1/3 (about 20 minutes).
Preheat oven to 350o.
Add basil to sauce and pour over shells. Sprinkle with fontina and remaining Parmesan. Cover with aluminum foil and bake for 45 minutes. Remove foil and bake until sauce is lightly browned and bubbly (15 minutes). Let stand for 10 minutes before serving.
---
Musakhan

(a popular Palestinian dish) 8 servings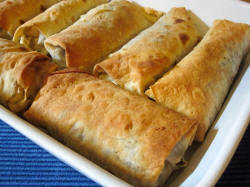 2 Tbsp olive oil

2 Tbsp butter

4 medium onions, chopped

1 ½ pounds boneless, skinless chicken breasts, cubed to 1"

1 tsp lemon juice

1 tsp cinnamon

¼ tsp ground cardamom

¼ tsp ground allspice

½ tsp salt

¼ tsp fresh ground pepper

4 whole pita breads, sliced in half to form 8 pockets
Preheat oven to 350o. In a large, heavy skillet, heat oil and butter over medium heat. Add onions and cook until soft, but not browned. Add chicken and spices. Cook, stirring occasionally for 10-15 minutes until chicken is tender but juicy. Taste and adjust seasoning. Fill each pita pocket with chicken mixture. Wrap in foil and heat in oven for 10 minutes. Serve with salad.
230 Calories, 12 g Fat, 50 mg Cholesterol, 180 mg Sodium, 20 g Carbohydrates, 2 g Fiber, 3 g Sugars, 19 g Protein.
---
Middle Eastern Roast Chicken

(4 servings)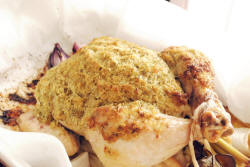 Grill version is available.
3-3 ½ pound whole fryer chicken

1 cup fresh cilantro

3 Tbsp lemon juice

2 Tbsp olive oil

3 cloves garlic

1 jalapeno, halve and seeded

1 ½ tsp paprika

1 tsp ginger

1 tsp cumin

1 tsp salt

½ tsp turmeric
Heat oven to 375o. Line a pan with foil for easy clean up. Lightly grease a rack to fit in pan. Slit chicken skin along breastbone with a sharp knife and remove the skin (can be left on wings). Cut 12-15 ¼" deep slashes all over chicken.
Process remaining ingredients in blender or food processor until smooth. Rub paste over chicken and into slashes. Tie legs and tuck wings under back. Place breast-side up on rack.
Roast 70 minutes or longer until drumsticks move easily and juices run clear when thigh is pierced. Let stand 5 minutes before carving.
---
Oven Roasted Potatoes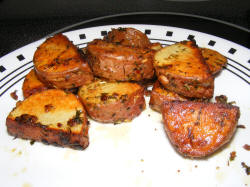 Preheat oven to 475 degrees F (245 degrees C).

In a large bowl, combine oil, garlic, basil, marjoram, dill weed, thyme, oregano, parsley, red pepper flakes, and salt. Stir in potatoes until evenly coated. Place potatoes in a single layer on a roasting pan or baking sheet.

Roast for 20 to 30 minutes in the preheated oven, turning occasionally to brown on all sides.
---

RATATOUILLE BAKE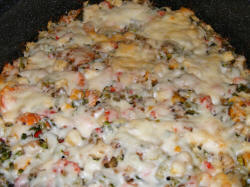 1 Tbsp. olive oil

5 cloves garlic, minced

¼ cup onion, chopped

2 cups eggplant, peeled and diced

2 cups zucchini, chopped

1 green pepper, chopped

½ cup carrots, sliced

1 cup mushrooms, sliced

1 (14-½ oz) can diced tomatoes

spinach, optional

1 Tbsp. dried basil

1 Tbsp. dried parsley

1/8 tsp. pepper

½ tsp. salt

1 cup shredded mozzarella cheese

1 (8 oz.) package frozen cheese ravioli
Preheat oven to 350°. Heat the olive oil in a large skillet over medium heat; cook and stir in the garlic, onion and eggplant until eggplant softens. Stir in zucchini, green pepper, tomatoes, carrots, mushrooms, spinach, salt, pepper and dried spices. Bring to a boil; stirring frequently. Reduce heat to medium low and simmer until vegetables are tender. Cook the ravioli according to package directions. Layer ravioli in the bottom of a 2½ qt. baking dish. Spoon the vegetables over the ravioli and sprinkle with cheese. Bake for about 20 minutes or until casserole is bubbling and cheese is melted.
---
Rhubarb Sauce over Mini Cheesecake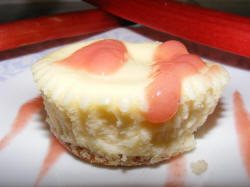 In a saucepan, combine the rhubarb, sugar substitute, water and nutmeg. Bring to a boil. Reduce heat; simmer, uncovered, for 6-8 minutes or until rhubarb is tender. Remove from the heat; stir in vanilla. Serve warm or cold over ice cream. Yield: 5 servings.
Cheesecake
12 vanilla wafers
2 (8 ounce) packages cream cheese, softened
2 eggs
2 tablespoons lemon juice
2/3 cup white sugar
Preheat oven to 350 degrees F (175 degrees C).
Line muffin tins with 12 paper baking cups. Place a vanilla wafer in each one.
In a medium mixing bowl beat cream cheese until fluffy. Add eggs, lemon juice, and sugar. Beat until smooth and thoroughly combined.
Fill each baking cup 2/3 full with cream cheese mixture.
Bake in preheated oven for 15 to 17 minutes. Cool on a rack. Top with fruit pie filling. Pipe whipped cream or sweetened cream cheese into a rosette on top of each cheesecake just prior to serving, if desired.
---
Pizza Rolls (fun to make with the kids)
2 cans Pillsbury Buttermilk Biscuits (10 biscuits per can)
20 pepperoni slices or bag of mini pepperoni
5 Mozzarella cheese slices, quartered
1 beaten egg
Parmesan
4 sliced mushrooms
dried oregano
Garlic salt
1 jar pizza sauce
Flatten a biscuit out and layer cheese, 1 tsp pizza sauce, mushroom, and pepperoni.
Gather up the edges of the biscuit folding to seal in the ingredients.
Line the rolls up (seam side down) in a greased 9×13 in. pan.
Brush with beaten egg.
Sprinkle with Parmesan, oregano and garlic salt.
Bake at 425°F for 18-20 minutes.
---
Mini Oreo Cheesecake (serves 18)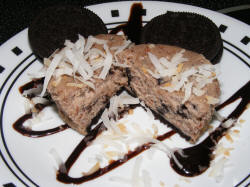 18 chocolate cream Oreos
2 (8 ounce) packages cream cheese, softened
2 eggs
2 tablespoons lemon juice
2/3 cup white sugar
Preheat oven to 350 degrees F (175 degrees C).
Separate the Oreos with a gentle twisting motion.
Line muffin tins with 18 paper baking cups. Place an Oreo wafer in each one.
In a medium mixing bowl beat cream cheese until fluffy. Add eggs, lemon juice, remaining Oreo wafers and filling, and sugar. Beat until smooth and thoroughly combined.
Fill each baking cup 2/3 full with cream cheese mixture.
Bake in preheated oven for 15 to 17 minutes. Cool on a rack.
Serve with toasted coconut, if desired.
---

Sweet & Spicy Pretzels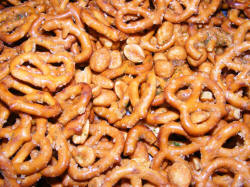 1 teaspoon ground cayenne pepper
1 teaspoon lemon pepper
1 1/2 teaspoons garlic powder1 (1 ounce) package dry Ranch-style dressing mix
3/4 cup vegetable oil
1/8 cup Honey
6 oz Honey Roasted Peanuts
1 (20 ounce) packages mini pretzels (low sodium)
Directions

In a small microwave safe bowl, mix together cayenne pepper, lemon pepper, garlic salt, ranch-style dressing mix, honey and vegetable oil. Microwave on high for one minute, the stir again.
Place pretzels and peanuts in a gallon sized sealable plastic bag. Pour in mixture from bowl. Shake well. Place in a pre heated oven at 300° for 15 minutes. Loosen with flipper after removing from oven to prevent sticking.

---
Roasted Brussels Sprouts with Apples, Golden Raisins, and Walnuts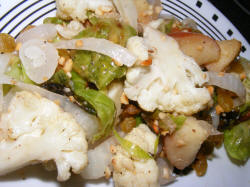 Directions

Preheat oven to 400 degrees F (200 degrees C). Line a baking sheet with aluminum foil.
Spread Brussels sprouts, cauliflower, apples, and onion onto the prepared baking sheet; drizzle with olive oil. Season with salt and black pepper; stir until evenly coated.
Bake in the preheated oven until Brussels sprouts and cauliflower are tender, 20 to 25 minutes.
Transfer Brussels sprouts mixture to a serving bowl. Fold in raisins and walnuts; drizzle with wine. Toss to coat.
---

Rhubarb Dump Cake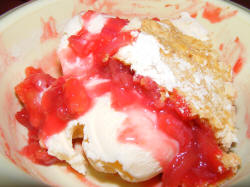 Preheat the oven to 350 degrees F (175 degrees C). Butter a 9x13 inch baking dish.
Spread the rhubarb evenly in the bottom of the buttered baking dish. Sprinkle the sugar over the rhubarb, followed by the gelatin mix, and finally the cake mix. Pour the water and melted margarine over the top. Do not stir.
Bake for 45 minutes in the preheated oven, or until the rhubarb is tender. Good server warm with vanilla ice cream.
Note: awfully sweet. consider cutting back on sugar.
---